Whether you own your own business or you're self-employed, the topic of insurance will have come up at some point. Just as you'd insure your home or your car, your business also needs insurance. This is important to protect yourself against things like damage to your property and liability claims that could come your way.
Life can be unpredictable, and the potential financial cost to your business could be catastrophic if something were to happen!
Do you need to have business insurance? If you want to protect your business, then it's a must. There are many types of insurance products you can put in place to protect your business.
Liability insurance, property insurance and workers' compensation insurance are all options. With so many types of insurance out there, you need to make sure that the coverage you choose is right for your business.
Find out more about the different types of insurance that exist for businesses, and make sure you safeguard your business' future!
What does the law say about business insurance?
While having insurance makes good sense for businesses, it is not necessarily required by law. Some states have their own regulations regarding business insurance that can make it necessary for some businesses.
In Michigan, for example, businesses with employees who work more than 35 hours a week need to have Worker's Compensation Insurance. This type of insurance covers employees' medical expenses or loss of earnings because of a workplace accident or illness, and prevents them from taking legal action against your business.
You should check the individual business requirements for your state to make sure you have the right legal protection in place.
Types of business insurance
There are many different types of business insurance available. You might even need several separate policies in place to cover different aspects of your business. Some of the most common types of business insurance include:
Liability Insurance
Liability insurance is a must for any business. If your business (whether it's your employees, the goods or services you provide, etc.) cause damage to a third party or their property, your business is liable.
Liability insurance will make sure you're covered for legal defense and damages. This is one of the most basic types of business insurance available. Most businesses take out liability insurance as the bare minimum cover for their company.
Without liability insurance, you could find your business folding fast in the event of a problem.
Professional Liability Insurance
Meanwhile, professional liability insurance protects you in the event of any legal action or damages taken because of your failure to render professional services. This is also known as Errors and Omissions insurance.
This type of liability insurance isn't only suitable for businesses, but for those who are self-employed too.
Professional liability insurance can apply to a range of professionals, including lawyers, accountants, insurers, and real estate professionals. Even hairstylists and beauticians!
It's a basic form of business cover that can make a big difference to your business. If you're ever faced with a legal situation from a dissatisfied client, you'll be thankful for this type of coverage!
Property Insurance
Just as you'd insure your home, you also need to insure your commercial property. Property insurance can cover your business against fire, theft, etc. This type of insurance is extremely important to help you repair or replace damaged items!
With property insurance, you can also add cover against interruptions to your business as a result of any damage – this is particularly important for retail businesses.
Exploring the specifics of your policy will help you establish what your business is covered against, and where you might need to seek additional policies.
Business owner's policy (BOP)
A business owner's policy is especially useful for small businesses. It packages the different types of business insurance available according to what a business needs. This way there is just one policy and one cost to worry about. This can make it easier for you to put the necessary protection in place for your business.
Auto Insurance
If your business uses commercial vehicles, then you're going to need auto insurance. Auto insurance will not only provide cover for any vehicles your business owns or leases but protect your drivers as well. You will need to make sure you've got the right type of auto insurance in place for your business. You also may need different insurance if you have employees who use non-company vehicles for work.
Workers' Compensation
As discussed above, workers' compensation will cover your employees should they suffer illness or injury as a result of their work, including accidents that happen on your business premises. This type of cover ensures their medical expenses are paid. It also removes their right to take legal action against the company.
Workers' compensation is generally required in most states, especially if you have a number of full-time workers working for you.
Directors and Officers Insurance
Having directors and officers insurance can provide protection for your company, should the actions of a director or officer impact the company's ability to operate or profit. It can also provide cover for legal action and damages taken as the result of their actions while on the job.
Data Breach
Businesses of all sizes are at risk of data breaches. A data breach can not only impact your business financially but it can risk your reputation too. Having data breach cover will make sure you're compensated for your losses.
In addition to data breach protection, you should make sure your business takes all necessary precautions to avoid a data breach from impacting your business.
Which type of insurance do you need?
The type of insurance you need for your company depends on the type of business you own, the size of it, etc.
Larger corporations will need to consider the amount of staff they have, their premises, auto fleet, and other considerations to help choose the right insurance product. While there are multiple individual policies you can take out, there are also comprehensive business insurance policies that can make sure you're fully protected.
An insurance broker can work with you and help you find exactly what you need.
As your business grows and develops, you might need to change the type of insurance you have, or increase your cover. A regular review of your circumstances will ensure you have the right type of insurance for your business.
Working with an insurance broker can help make sure you have access to the widest range of deals, as well as helping you find the best rate for your policy. Insurance isn't something to scrimp on – it's not worth the risk of not having enough coverage.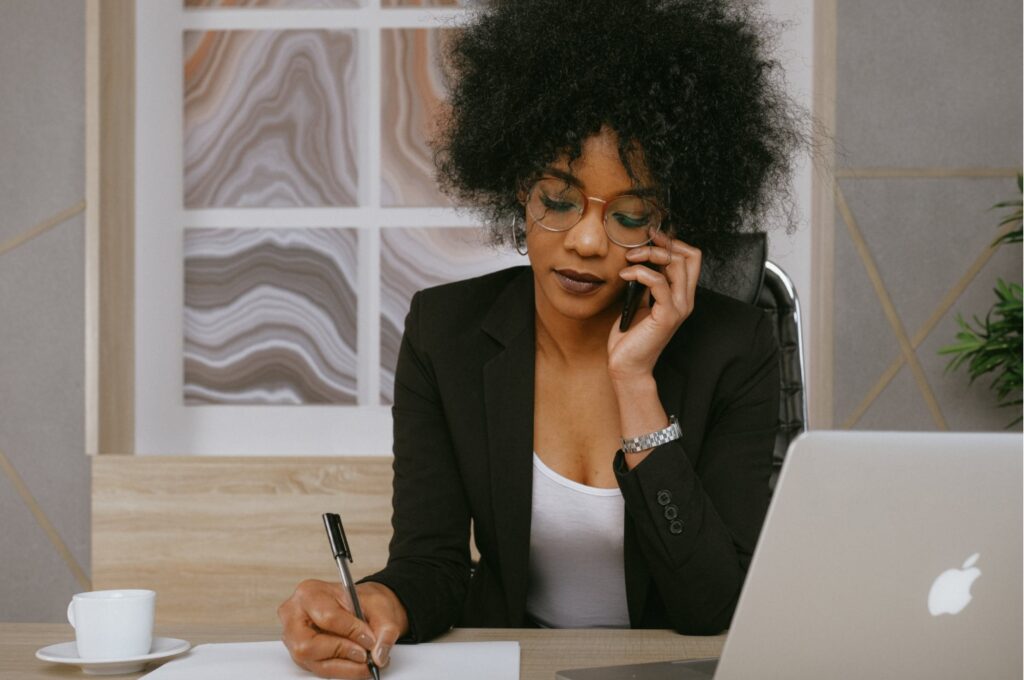 Business insurance when you work from home
Someone working for themselves, from home, such as a freelancer, might not need comprehensive business insurance. Personal liability insurance can cover you in the event of legal action from clients, which will help protect your business.
You should also consider data breach insurance, especially if you deal with a lot of sensitive private data.
While you might not need comprehensive business insurance, as a freelancer or someone who is self-employed, there are other types of insurance you need to consider. These include:
Home insurance
Running a business from your home, you'll need to make sure it's protected in the event of fire, theft or another kind of disaster. With home insurance in place, you can make sure all of your personal belongings are covered, while adding in coverage for the items classed as being for your business, can make sure all of your equipment is protected too.
Car insurance
If you use a vehicle for your business such as a van, or you drive to clients, then you'll need comprehensive car insurance too. Your policy should state that you use your vehicle for work.
Healthcare insurance
As you work for yourself, you won't have the same benefits that a typical employee would have. You'll need to source your own healthcare insurance to make sure your medical expenses are covered if needed.
Liability insurance
If you operate a business where people need to visit your home, such as a home-based hairdressing service, personal training, etc., then liability insurance will help cover you if someone has an accident or injures themselves on your property.
Life insurance
While not a necessity for your business, you should consider taking out a life insurance policy that will ensure your family and your home are taken care of if something happens to you.
Disability insurance
If you have an accident or you're left unable to work due to a critical illness, then disability insurance could help you maintain an income. As freelancers lack many of the benefits provided by employers, it's important that you protect yourself.
While there are several types of insurance that could be applicable to your home business, you can find good deals through an insurance broker. Your insurance premium is a small price to pay in the grand scheme of securing your business.
How much does business insurance cost?
The cost of business insurance varies according to the type of policy you take out, as well as the size of your business. If your business is considered to be at high-risk of certain events, then your policy could be higher than the average cost of business insurance.
The most affordable type of business cost is liability insurance, which can cost around $65 a month on average. More comprehensive cover, such as business owner's insurance, could cost you around $99 a month. It's worth assessing whether or not full cover is what your business needs, or if multiple individual policies are more relevant.
The cost of your insurance can also go up and down, which is why it's important to conduct a comparison each year to make sure you're getting the best deal.
Choosing the right type of business insurance
With so many types of business insurance available, you need to make sure that you choose the right policy or policies for your business. The nature of your business could require you to have insurance in place to be able to operate, such as owning a bar, for example, and this insurance needs to provide the right amount of coverage.
While business insurance is an additional cost to your business, it's a small price to pay to make sure your business could survive if faced with some kind of disaster. You'll need to assess your assets and think of the worst-case-scenario to help you choose your coverage.
An insurance broker can help advise you on the best types of coverage for your business needs.
Insure your business with LSI Insurance
If you're looking for business insurance, LSI Insurance can help. Established in 2016 by Jim O'Connor, LSI Insurance specializes in insurance for a variety of commercial needs, as well as insurance for individuals. We can help you find the most relevant policies for your business, providing advice about the right levels of coverage for your needs.
Through LSI Insurance, you'll get access to policies from dozens of insurance companies. We're affiliated with the Strategic Independent Agency Alliance, a national organization that helps us provide the best services to our clients. With our expertise and links, we can help you find the right business insurance rates for your company.
Contact LSI Insurance today
If you're looking for a new insurance policy for your business, or you need to renew your cover, LSI Insurance can help. We have experience working with commercial clients from across a range of industries, helping each one secure the relevant cover for their business.
Our insurance brokers are the ideal way to help you find the best business insurance rates. Whether you need a single policy or need to find multiple policies to protect your business, we can help. Based in Detroit, Michigan, we can help your business find what you're looking for.
Get the right business insurance for your company today by calling LSI Insurance. Call 313-378-3898 today for all of your insurance needs!